Full-bodied Green Tea with Brown Rice
Sometimes referred to as 'popcorn tea', NISHIOMEIKOUEN Genmaicha is an exotic Japanese recipe that combines roasted popped brown rice with tender and delicate Sencha green tea leaves. The result is a delicate tea that offers a freshly toasted aroma with a natural sweetness, a mild aftertaste of roasted brown rice and almost chewy texture.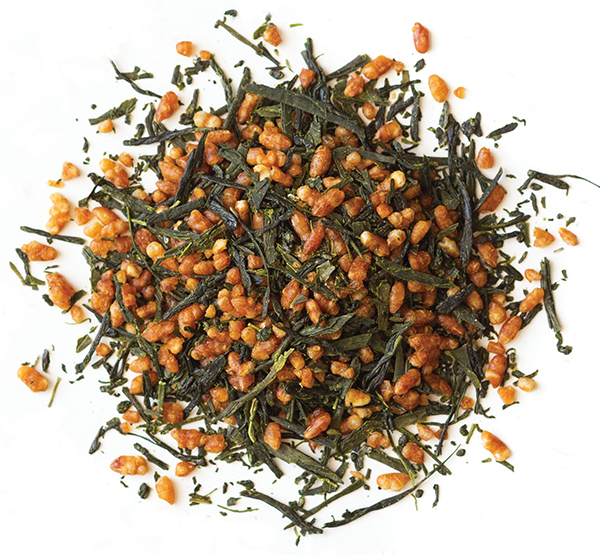 Brewing:
Pour enough boiling water into the empty teapot to fill everyone's cup. The teapot should NOT contain any teas leaves at this point.

Fill each cup with the water from the teapot. This will cool the water from boiling to the desired temperature of 80°C.
Put about one large teaspoon of tea leaves into the empty teapot for each cup of tea. The teapot I am using comes with an infuser, but if yours doesn't, you can put the leaves directly in the pot.

Pour the water in the teacups back into the teapot.

Let the tea steep for one minutes.

Pour a small amount of tea into the first cup, then pour the same amount into every other cup. Continue filling the cups a little at a time, making sure that each cup contains the same amount of the weaker first pours and the stronger last drops. DO NOT fill one cup completely and then move on to the next cup.

Continue pouring until the teapot is completely empty. You want the leaves to be as dry as possible to ensure a quality second infusion
Benefits:
Brown rice tea is a very powerful diuretic which helps to relieve bloating and avoids water retention. So if you drink this tea on a daily basis, you will notice that you'll visit the toilet more often to get rid of excess water, gases and toxins in your body. Or if you experience feeling really boated after a meal, try to drink a cup of this tea and it will help your body digest your food easily.
Reduces Bloating and Improves Digestion


Regulates Thyroid Hormones

Improves Blood Flow

Helps You Lose Weight

It Clears Various Toxins

Improves Brain Function

Helps With Relaxation And Focus

Balances Blood Sugar Levels

Improves Dental Health and Reduces Bad Breath